Essay Contest Deadline 2023 National Black Caucus Foundation
Start Date: 05/11/2023
End Date: 07/15/2023
End Time: 04:00 pm EST
State: FL
Category: Events - Residents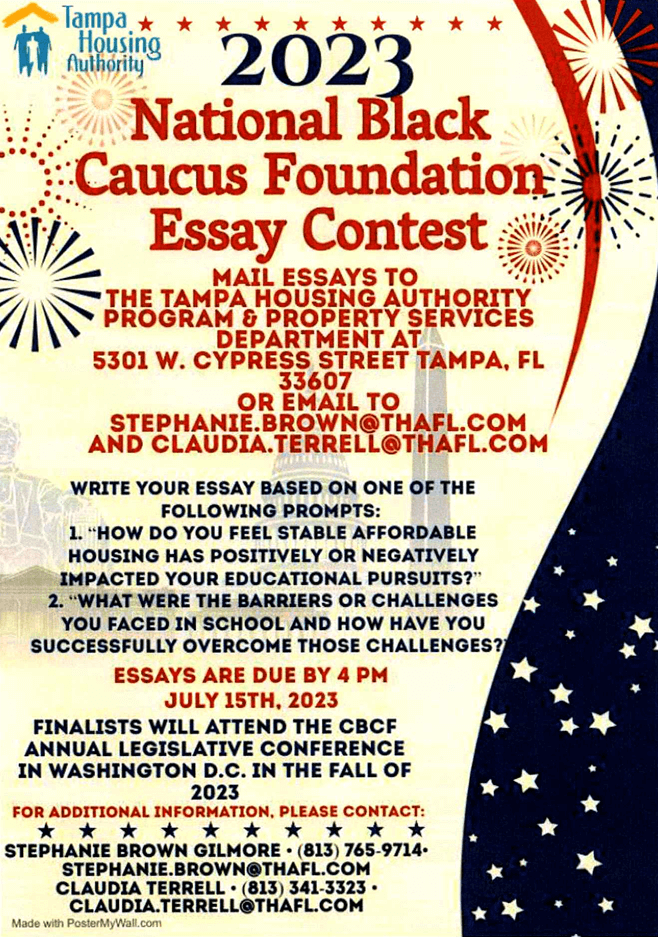 ---
2023 Congressional Black Caucus Foundation (CBCF) Annual Legislative Conference (ALC) Essay Contest
Dear Student,
The Tampa Housing Authority (THA) will award ten (10) students from the Hillsborough County Public School District who enter and win our CBCF Essay Contest. The winners of the Essay Contest will attend the 2023 Congressional Black Caucus Foundation (CBCF) Annual Legislative Conference (ALC) in the Fall of 2023.
The Annual Legislative Conference is the leading policy conference on issues impacting African Americans and the global Black community. Leaders, Legislators, and citizens meet to discuss economic development, civil and social justice, public health, and education. This opportunity to compete is open to our Public Housing and Assisted Housing Program students, who attend our Hillsborough County Public Schools and who are currently participating in 10, 11", or 12-grade students
We have provided you, with instructions on how to participate in the 2023 CBCF Essay Contest. Please be sure to follow all details for your submittal in a timely manner. Below you may choose one of the two prompts to write an 800-1200-word essay.
"How do you feel stable affordable housing has positively or negatively impacted your educational pursuits?"
"What were the barriers or challenges you faced in school, and how have you successfully overcome those challenges?"
Essay Details:
Your Essay must be typed using Times New Roman as the font, and double-spaced. Font size should be 12 with one (1)-inch margins on all sides.

Your Essay should contain at least 800-1200 words.
The Deadline to submit your essay is 4:00 PM Friday, July 15, 2023. You can email your essay to Stephanie and Claudia or in the drop box located in front of the Tampa Housing Authority's corporate office, located at 5301 W. Cypress Street, Tampa, FL 33607. When emailing your Essay, please put NATIONAL BLACK CAUCUS ESSAY as the subject of the email. If you have any questions, please contact Stephanie Brown Gilmore by email or call (813) 765-9714. You may also contact Claudia Terrell by email or call (813) 341-3323.
---
Mail essays to:
The Tampa Housing Authority Program & Property Services Department
5301 W. Cypress Street, Tampa, FL 33607
Or email Stephanie and email Claudia.
Essays are due by 4 pm, July 15th, 2023
Finalists will attend the CBCF annual Legislative Conference in Washington D.C. in the Fall of 2023.
For additional information, please contact:
Stephanie Brown: 813.765.9714 or email Stephanie.
Claudia Terrell: 813.341.3323 or email Claudia.